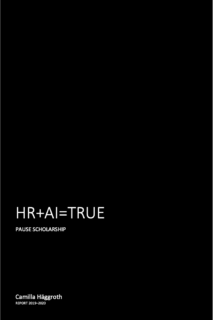 2021-06-16
HR increases the pace with AI
The latest PAUSE Fellow, Camilla Häggroth,
received SEK 100,000 to study the benefits of artificial intelligence (AI) in HR. Shortly afterwards was hit
the world of a pandemic. Despite this, Camilla has managed to complete her studies and written a very interesting scholarship report.
In it, she describes a study, a collaborative project with a supplier of software for psychometric tests, which shows that the HR function can streamline work through AI both in terms of recruitment and training.
In addition, Camilla argues that the HR function needs to be a driving force in the issue of developing human-machine collaboration on an overall level in the organization. In this way, it can play a crucial role in transforming companies and their way of working to become competitive in a digital world.
"The technical aspect may feel foreign at first, but in fact it is quite easy to absorb. Be aware of and think about the issues surrounding inherent bias, ethics and data protection, but do not let them be an excuse for not implementing AI in the business ", she says in summary about her own experiences from her studies.
Contact:
Helena Lundberg, helena.lundberg@stiftelsen-pause.se, +46 73 982 43 28
____________________________________________________________________________
2019-11-12
PAUSE Scholarship 2019 is nominated
The PAUSE Foundation awards Sweden's largest scholarship in HR and leadership. The purpose is both to contribute to the alumni's personal development and to give other interested persons increased knowledge about current HR and leadership topics. Since its foundation in 1982, the foundation has awarded 44 scholarships. The 2019 scholarship of SEK 100,000 goes to Camilla Häggroth, who will investigate how AI can be used within the HR function to contribute to a positive organizational development.

-The competition for the scholarship was great this year, but we are convinced that Camilla is the right alumni. She is knowledgeable, has the right background and the personal drive to take on this year's focus area Artificial Intelligence (AI), says the foundation's chairman Björn Lundberg. We also share Camilla's view on how AI and digitalisation broadly opens up a whole new perspective on recruitment, follow-up, analysis, leadership and learning, Björn continues.

Camilla Häggroth will use the scholarship for studies on how AI can be used specifically in the HR function to contribute to positive organizational development. Among other things, it is about using AI to ensure greater precision in recruitment and to design further training for already employees.
Camilla begins her studies in December 2019 and finalizes them in the form of a scholarship report in early April 2020. Shortly thereafter, the report will be published on the foundation's website, among other things.
Camilla Häggroth will study at Ashridge Hult Business Business School, UK, where they have a center for action research. She is accepted for their "doctorate in organizational change". The idea is that the research she will do during the scholarship period should form the foundation of her doctoral dissertation.
Contact: Helena Lundberg, +46-73-982 43 28, kontakt@stiftelsen-pause.se
____________________________________________________________________________
2019-08-19
Announcement – Scholarship of SEK 100,000
The PAUSE Scholarship Foundation awards the largest Swedish scholarship in HR and leadership for international studies. The PAUSE scholarship aims to contribute to the personal development and leadership abilities of the alumni through international studies and experience. It also aims to spread knowledge about current HR and leadership topics to Swedish international business and others interested in the area.
Latest application date is 11 October 2019.
The scholarship is primarily aimed at those who have a university degree and practical experience in HR and leadership, but also students with work experience from the area can apply. The applicant must have a genuine interest in, willingness and ability to develop in the field, and to take leading positions in Swedish international business.
The scholarship is to be used for studies at a university / management school or
at a company for at least three months. The PAUSE Scholarship foundation expects the applicant to study Artificial Intelligence's (AI's) impact on HR and leadership issues, however can be opened to suggestions on other relevant topics. The studies shall result in a scholarship report which is to be freely distributed in different ways to others interested in the field.

Specifications for the 2019 scholarship and information on application process, download here (in Swedish).

Any questions about the scholarship is answered by the foundation's chairman,
Björn Lundberg: kontakt@stiftelsen-pause.se.

Questions that might be of interest for other applicants, will be published on the site.
____________________________________________________________________________
2019-08-17
Ongoing Website Maintenance
Excuse the mess on our website. Work is underway to make it available on mobile devices. At the same time, we also review structure, functions and content. Most of the work is expected to be completed during week 33 or 34.
Soon the PAUSE Scholarship Foundation will announce a new scholarship. Information about this will be published as soon as the site is complete.
Any questions regarding the work that is going on on the website and the call should be sent to: kontakt@stiftelsen-pause.se.